Y Strainers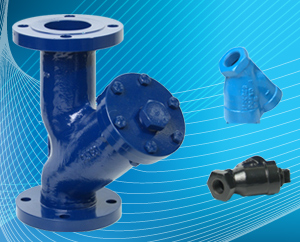 These devices remove solid particles by means of a perforated screen or mesh. They are commonly used in lines to protect equipment like pumps, flowmeters, control valves, steam traps and other regulating valves, in order to avoid premature failures and maintenance.
It is important that the strainers be designed and manufactured following adequate safety factors. These safety factors involve wall thickness and other components.
---
Screens and filtering elements
The screen is the heart of the strainer and it is where dirt and other undesired particles are retained. We manufacture a complete line of strainers with a wide range of diameters and several different sizes of filtering elements. The filtering capacity is associated with the perforated plate or screen mesh.
---
Perforated Plates
For ordinary filtering, the element is made from a perforated plate. Perforating range starting from 0.5 mm are commercially available. While choosing the size to provide proper protection to the equipment located downstream the strainer, a common rule is to consider that the diameter of the perforated plate has to be half of the diameter of the largest particle that may pass downstream.
---
Mesh Screens
Whenever there is a need to filter smaller particles, it is used a mesh screen, which is normally layered over a support cage.
---