Bimetallic Steam Traps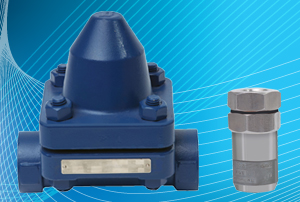 High Pressure Bimetallic Steam Traps are simple, robust and recommended to drain condensate and air from high pressure steam lines. They can be installed in collectors and steam distributors.
Advantages: Robust, made in steel and with incorporated strainer. Resistant to water hammer and corrosive condensate. They have good capacity to eliminate air. They follow the saturated steam curve, but can be adjusted to other temperatures.
The steam trap operates as a check valve. It uses the concept of sensible heat and is easily installed. In some cases it can be used to drain steam lines when the condensate discharges to the flooded return line.
Disadvantages: not applicable where the condensate must be discharge at the saturated temperature. Because the bimetallic element takes some time to respond to temperature changes, the bimetallic steam traps do not react instantly to flow variations. The discharge temperature adjustment is affected by the back pressure.
Type of steamtrap: Bimetallic
Method of discharge: modulating discharge
Discharge temperature: the temperature depends on the adjustment of the element and the back pressure.
Find below the operating conditions of the bimetallic steam traps manufactured by SF International and choose the ideal model for your application.
---