Ball Float Steam Traps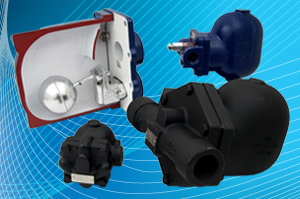 They can continuously discharge condensate and are the best choice for the condensate removal of steam-using equipment such as tanks, coils, heat exchangers, digestors, dryers, rotating cylinders, etc.
Advantages: They work efficiently in both light and heavy condensate loads. The models fitted with the "EAR" bi-metallic device provide excellent Air Venting. They respond immediatelly to variations in pressure or loads, and for this reason are the best choice for equipment with automatic temperature control. They are the only choice when locked steam is present.
Disadvantages: susceptible to damages caused by water hammer
Type of steam trap: Ball Float
Discharge Method: Continuous discharge of condensate
Discharge Temperature: At saturation temperature.
Below are the working conditions for SF International Ball Float Steam Traps. Choose the ideal model for your application.
---