Thermodynamic Steam Traps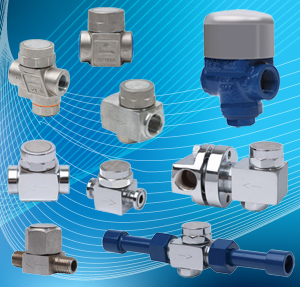 It is recommended for the removal of condensate from steam mains and tracing lines. It can also be used for the removal of moisture from compressed air lines.
Advantages: Compact, lightweight, robust, no need of external adjustment. They are not affected by waterhammer, high temperatures or vibration, and are resistent against corrosive condensate. They operate in any position, preferably with the disc in the horizontal position. The disc is the only moving part and works as a check valve. The models are available with or without strainer and with or without blowdown valve.
Disadvantages: They do not operate properly with low working pressures. They tipically need a minimum of 0,25 barg inlet pressure. They can discharge a huge mass of air at the start up, if the inlet pressure raises slowly. If exposed to weather, the flash steam in the top of the chamber will quickly condensate, reducing the cycling rate. The discharge to the atmosphere can be noisy.
Type of trap: Thermodynamic
Discharge method: intermittent accompanied by clouds of flash steam. Tight shutt off between discharges.
Discharge Temperature: near the saturation temperature.
Below are the working conditions for SF International Thermodynamic Steam Traps. Choose the ideal model for your application.