Thermostatic Traps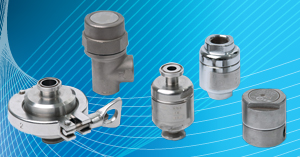 They are mostly used to remove air from the end of steam distribution lines or jacketed equipment.
Advantages: No need of adjustments for different pressures, compact, light and it easily discharges air. Internal parts in stainless steel provide resistance to corrosion. Simple operation. Parts resistant to water hammer.
Disadvantages: the condensate is discharged below the saturation temperature; sudden flow changes interfere in the operation of the trap.
Type of steam trap: Balanced Pressure Thermostatic
Method of discharge: intermitent flashes for medium and high pressure and flow. Modulation expected for lower flows.
Discharge Temperature: below saturation temperature. The discharge temperature depends on the element.
Below are the working conditions for SF International Balanced Pressure Thermostatic Steam Traps. Choose the ideal model for your application.
---