Sight Check Valves
These components are used to detect flow for different industrial fluids.
Description
These components are used to detect flow for different industrial fluids. They are available in an extensive variety of materials and connections, making them a good option for all industrial segments like chemical and petrochemical, food and beverage, sugar and ethanol, textiles, etc.
---
Why me Should Install Sight Glass?
By installing these components in the pipeline it will be possible to check if the fluid is flowing properly. This means that the sight glasses can be used to detect blockages in valves, strainers, traps and other piping equipment that may compromisse the efficiency and safety of the process.
The operation of a trap can be inspected by using a sight glass. Sight glasses can also be used for other inspection purposes, like comparing the color of the product throughout the stages of the production process, allowing adequate intervention whenever necessary.
---
Its operation
Sight Glasses
This component has a slight reduction that promotes turbulence when the fluid is flowing through it. This turbulence allows the detection of the fluid.
Sight Check Valves
These components combine two distinct features in a single product. A ball positioned inside the discharge tube is displaced by the fluid that is passing through the cylindrical window to the outlet. The movement of the ball is easily detected and in case of counterflux the path is closed.
---
Benefits of The Sight Glasses and Sight Check Valves
No moving parts;
It is available an option with double window, facilitating the inspection of the fluid in the line;
Wide range of connections;
The combination of sight glass and check valve allows the visualization and retention of flow in a single product;
Easy and fast inspection.
---
Image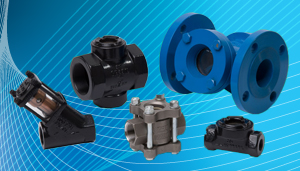 Specifications
Detailed technical information of Sight Check Valves
 
VSR-110
VDR-110
VSF-110
VSF-130
VSF-131
VSF-132
VSR-131
SG-10
Body Material
Nodular Iron
 
 
 
 
Carbon Steel
 
 
 
 
 
 
 
Stainless Steel
 
 
 
 
 
Maximum operating pressure  (bar)
7
7
17,6
21
21
21
21
3,5
Maximum operating temperature  (C)
40
40
218
316
316
316
300
148
Diameters
3/8"
 
 
 
 
 
 
 
1/2"
 
 
 
 
 
3/4"
 
 
 
 
 
1"
 
 
 
 
 
1.1/2"
 
 
 
2"
 
 
 
2.1/2"
 
 
 
 
3"
 
 
 
 
4"
 
 
 
 
6"
 
 
 
 
Connections 
Screwed
 
 
 
 
SW
 
 
 
 
 
 
 
BW
 
 
 
 
 
 
 
Flanged
 
 
 
Windows
Simple
 
 
 
 
 
 
Double
 
 
Incorporated Check Valve 
Standard
 
 
 
 
 
 
 
Technical Files
Complete information for the correct selection and sizing of products.
Request a Quote or Expert Contact
Location
Interested in one of our products?
Request a quote and we will get back to you as soon as possible.